I'm sorry, but I have been unable to accept any more commissions for soldier portraits. I really wanted to do them, but it was a larger investment of time than I found I was able to do. Thank you for your interest.
I do give a 50% discount to active USA Military personnel.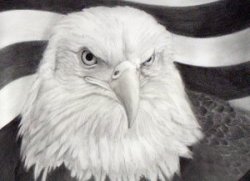 About the drawing above: I created this pencil portrait of an American Bald Eagle on September 11, 2001 in response to the Twin Towers tragedy in New York City. I drew it while watching the news reports about 9-11 on TV. This art print is available for purchase as 8"x10" professional art prints on 100% cotton, acid free paper. If you know anyone looking for artwork about 9-1-1, please tell them about this. Thank you!