Coming Soon! ....
For a better browsing experience,

Please visit new website at www.DarlaDixon.com

Thank you!
I've decided not to offer stipple portraits and to
concentrate on my love of pencil portraits.
I'd like to refer you to two great artists, Noli Novak and Kevin Sprouls.
Noli's website is
http://nolinovak.com
and Kevin's is
http://kevinsprouls.com
Please tell them I sent you!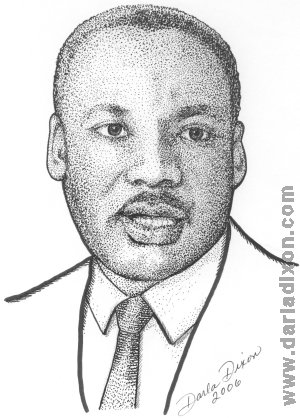 Martin Luther King Jr.
Pen and Ink Stipple Portrait (Pointillism)
Similar in style to the famous Wall Street newspaper 'hedcut' portraits.
Paper size is 11"x14" and actual image area is approximately 5"x7" centered on paper.