Pencil portraits of houses and homes, as well as portraits of commercial businesses.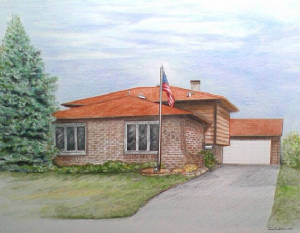 House Drawing in Colored Pencil and Pastels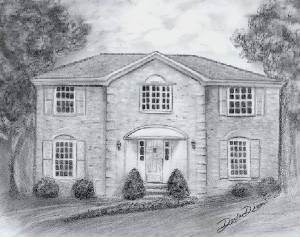 Drawing of a home in graphite pencil
All About My Pencil Portraits of Houses
For images of homes, I have found it works well to have base prices in mind for basic one-story homes and two-story homes, then I add to the amount for features that the home has that are very time-consuming, ie: decorative filigree on the door, potted plants by the front door that the customer wants included, 8 windows with slatted shutters, the need to combine photos if necessary, lots of landscaping scenery, etc.

I will also usually charge more to draw a brick home, because that takes more time and involves small detailing. If a home is extremely simple and easy to draw, even if it does have two stories, I don't charge you to pay my set price for a two-story house. I'm also careful to charge only based on the level of difficulty of the drawing. I don't base my fees on the apparent value of the home itself.

A 3-million dollar home isn't necessarily any harder to draw than a trailer! I have seen some trailers that would be extremely difficult to draw! To me, it's basically unfair and unethical to charge more if the house looks more expensive. It would be wrong for a plumber to fix a leak in an expensive home and then charging less for the same job in a less expensive home, and my situation as an artist isn't any different really, I only work fairly.

But to provide you a general idea, I charge around $100-$250 for a one story home, and around $400 for a two story home, but I like to see the photos first so I can give a more accurate quote based on the project. To see the photo(s) first saves you money.

In most cases, it will probably be less than you think, so contact me today for a complimentary quote.
Real Estate Professionals

Both my parents were Real Estate agents when I was growing up, so I know how valuable a pencil portrait of a client's house can be as a closing gift. Many Real Estate agents give fruit baskets and such - and those are nice in their way, but what's left when all the food's eaten?

A pencil portrait of their house will last for years, a visual reminder of your personal service to their family. So when it's time to list their home, of course you are going to be the person who comes to mind immediately!

I offer generous discounts to Real Estate agents who plan to commission several portraits through the year. I don't require a contract on this, your word is good with me.


Church Portraits

A custom drawing of your house of worship is useful for the front page of the church bulletin, note cards, letterhead, postcards, and fund raising with prints.

My church drawing for you includes full reproduction rights to the pencil drawing, and I retain the right to show the image on my website as an example of my work.


Please Please contact me for a quote with no obligation to order.